Luxury vehicles, like many market retail categories, took a big sales hit in 2020 when the U.S. went into a recession during the COVID-19 pandemic. But luxury automakers like Porsche, Bentley, Mercedes, and Audi all immediately rebounded in 2021, some with double-digit growth.
The plan for the $1.4 billion Bentley Residences skyscraper in Sunny Isles Beach north of Miami, contracted in 2019, went full steam ahead. Construction on the site begins in six months and will take approximately four years to complete, according to Dezer Development.
The Florida-based company was founded in 1970 by Michael Dezer and is now run by his son Gil. In addition to the Porsche Design Tower, which only has space for two cars per residence, Dezer has built several other buildings in the Miami area including six for ex-President Donald Trump.
When completed, the building will be the tallest building in the U.S. on a coastline. Apartment owners in the nearby Porsche-branded building will see the Bentley wing-shaped façade come together.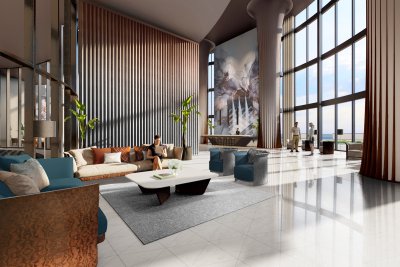 Its exterior glass of the building will be diamond-faceted like Bentley's seats, which will also cut down on the glare for passersby.
It will include 216 residences, each with a three- or four-car garage serviced with a car elevator that slides the owners' vehicles into an area that can be viewed from the living room.
Most floors of the building will feature four condos.
"We could put our name on a tower, but we don't see a lot of value in that. It's trying to instill the design elements that we work on in our cars in Crewe and get that into the interior of a residence," Bentley Americas President and CEO Christophe Georges told Newsweek.
Each residence features a personal pool on the balcony along with a three-season room, walled in on three sides but open to the water (or the city if on the other side of the building). The rooms are filled with impossibly glossy Bentley Home furnishings that evoke the interior of its vehicles.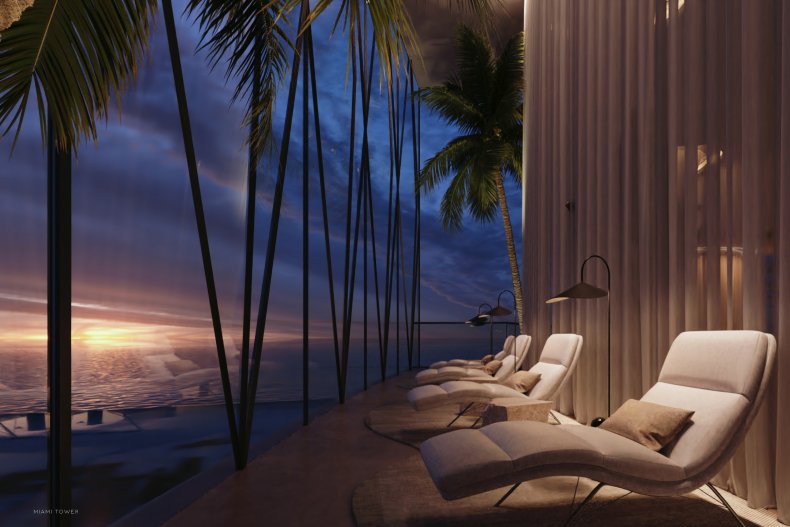 There are two types of layouts on the normal floors, measuring 5,500 to 6,000 square feet. A huge bathroom is included with an extra outdoor shower for each residence.
The kitchen has panels that cover the fridge, stove and sink area, turning the room into a communal space when not being used for cooking. Building amenities include a cinema, a games room, a wellness center and spa, a whisky bar, a cigar lounge and a restaurant.
"As Bentley designers, we create incredible cars, but taking that and translating that beyond the car is a mission that we have…to translate a luxury experience, and of course the authenticity comes as we partner with Dezer to bring that to life," Bentley Head of Design Collaborations Brett Boydell told Newsweek.
"So, you'll see Bentley design cues all throughout the spaces, we've created things that no one has done before, including the key signatures in the bar and with the furniture, which we also helped create and design. It's just an extension of our attention to detail, that beauty of craftsmanship," he said.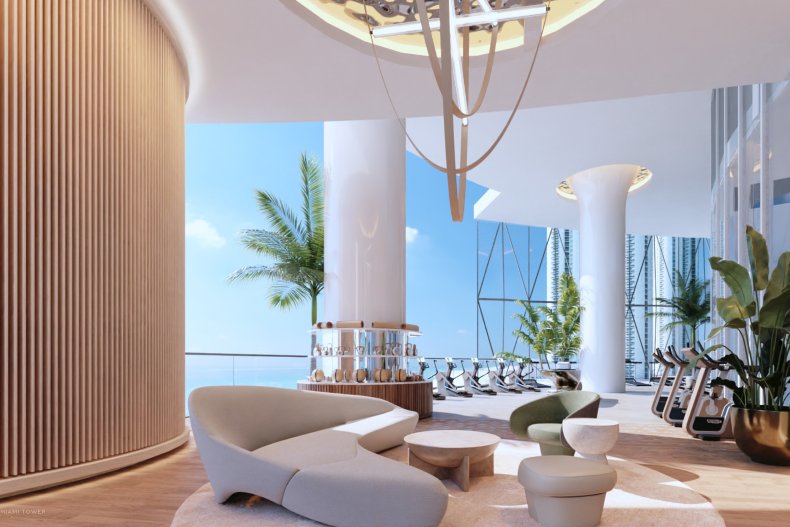 The sales office, two properties down the beach from the new tower, lets potential buyers see what they might get.
"This sales office is the first step. Sometimes they won't have a Bentley, but they will discover what Bentley is about with craftsmanship and design, and we'd hope that they'd be eager to drive a Bentley as well."
The office will act as a private club for Bentley owners while the Residences is being built, complete with its own bar, patio and beach area.
"We are going to use this space for the next four years to welcome customers to a Bentley Beach Club. This is Miami, it's difficult to get to a private beach club so for our customers this will be their place to get some additional lifestyle experiences," said Georges.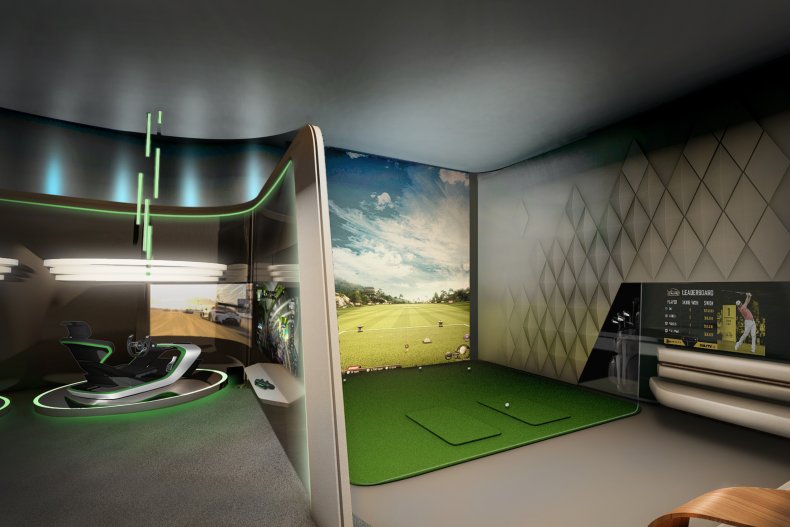 Southern Florida has evolved into one of the most affluent areas of the world. Brands beyond Bentley are taking note. Aston Martin has a tower in downtown Miami that will be complete this year. The city also has a residence building by clothier Armani.
The design team consisted of about 18 people including five from Bentley. The car company led the creative direction while Dezer did the execution and implementation. There were weekly design reviews to make sure the teams were on the same page.
Each Bentley residence will cost about $5 million except for the 29,000-square-foot penthouse that will retail for about $57 million with parking spaces for 11 vehicles using the "Dezervator" car elevator.
About a quarter of the traditional units have been sold, according to Dezer, and a quarter more will need to go before construction begins.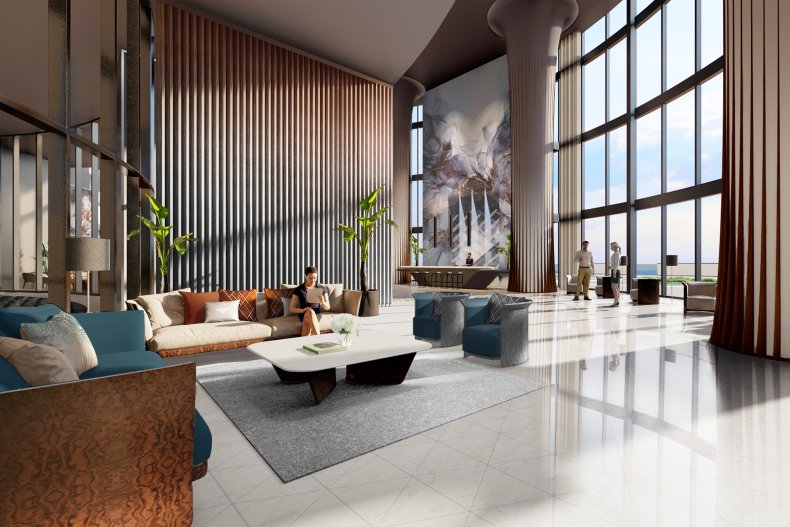 Dezervator was a placeholder name for the elevator Dezer was developing, unfortunately, according to Gil, the name stuck. Bentley residents drive their car into the elevator, turn it off and put it in park. A turntable spins the car 180 degrees and lifts it up on a dolly. The elevator goes up, the doors open, and the dolly slides the owner's car out into the garage area, which is separated from the kitchen/living room area with giant panels of glass.
"We had brainstorming sessions on how to make the living experience in condominiums a lot better. The feedback we would get on a regular basis was that people hated to valet their cars. For a lot of reasons but mainly they didn't like a sweaty car runner changing their seat positions every day," President of Dezer Development Gil Dezer told Newsweek.
"But more importantly people didn't like the fact that the front of the building knew all of their coming and goings. With the Dezervator you can go to and from your apartment without needing assistance," said Dezer.
The Bentley Residences will be built sustainably according to the company, with the local Miami wildlife in mind, and will include efficiencies for electric vehicles (which will be coming from Bentley starting in 2025). The residences do not come with free Bentleys, the company said.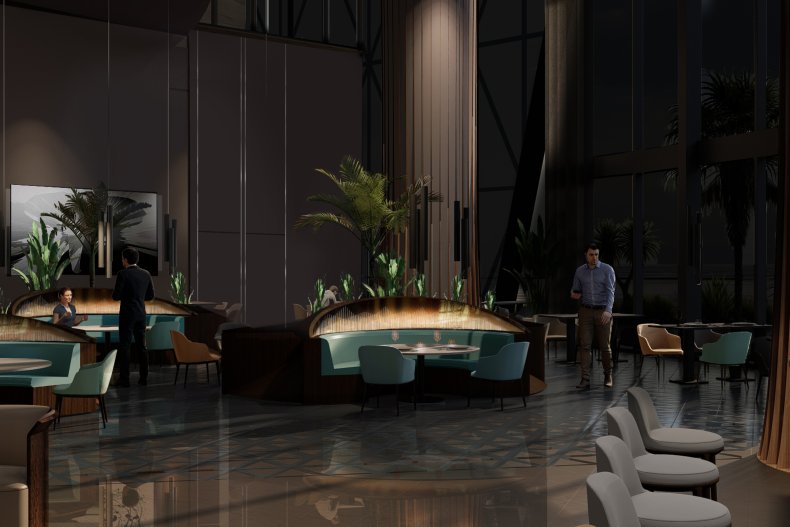 "The development is keenly focused on luxury living in a sustainable environment. Bentley Residences is being designed in accordance with the Florida Green Building Coalition certification and other environmental regulations to protect the local environment and minimize the impact of the development on local wildlife," said Boydell.
"Environmentally safe building materials will be used, and reduced coastal lighting implemented to protect endangered sea turtles. The building will be engineered to reduce energy consumption."
Bentley is always looking for partners to expand its business, be it in clothing, watches or real estate. Creating a residence with Bentley-like amenities is just a natural progression of that exploration.
"We look for extraordinary opportunities and collaboration with customers and businesses alike. We've partnered with Dezer to create a living experience that expresses the very philosophy of the Bentley brand and stays true to our vision of inspiring extraordinary journeys," said Boydell.